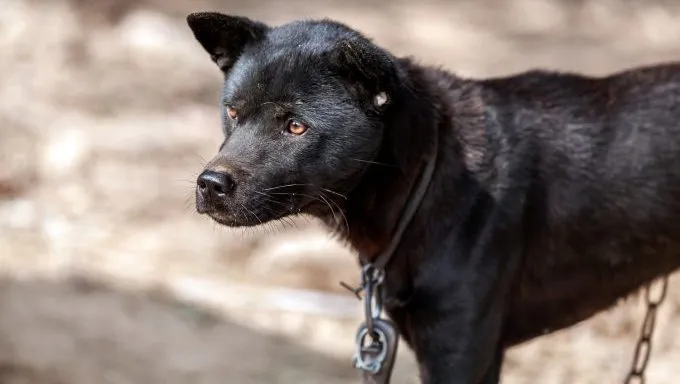 Eight dogs rescued from an alleged dog fighting ring are finally receiving the care and love they deserve today in Michigan. Meanwhile, the man responsible for the maltreatment of the dogs remains at large.
Dogs rescued from alleged dog fighting ring
According to Fox News, authorities issued an arrest warrant for 29-year-old Casey Autry Kidd. Officials suspect he participated in a dog fighting ring. Genesee County Sheriff's deputies discovered eight dogs chained in his yard. The dogs suffered from multiple injuries and scars that indicated dog fighting. One dog was restrained in such an extreme fashion that it lost mobility.
In a more gruesome discovery, six other dogs were found dead. Apparently, they died of starvation. Officials recovered their rotting bodies in the yard.
"We believe that these dogs were used in a potential dog fighting ring," Genesee County Sheriff Christopher Swanson said during a press conference. They shared a mug shot of Kidd and asked for the public's help in finding him.
Dogs reunited with owners
Thankfully, two of the dogs rescued had microchips. Authorities are working to reunite all of the dogs with their families. It is unclear if Kidd stole the dogs or if they came into his possession some other way.
Two of the dogs – one of them a Boston Terrier – returned to their rightful homes last week. The sheriff's office shared videos of the reunions on Facebook.
Kidd is still at large. If you see him, authorities request that you report his whereabouts. Call the sheriff's office at 810-257-3422 or Crime Stoppers at 1-800-422-JAIL with any information. However, if you see him, do not confront him. Officials stressed that Kidd is a "habitual offender" with a "dangerous criminal history." Past offenses include assaults, home invasions, and drug charges.
"We're not asking anybody to put themselves at risk," Swanson said.
If nothing else, this horrible ordeal serves as a reminder to always microchip your dogs so that they can be returned to you if lost or stolen.
Source link